"Leading Towards Robotics Technologies" Innovation Competition
The Office of the Government Chief Information Officer (OGCIO) is organising the Catch the Innovation Campaign (the Campaign), themed on "Leading Towards Robotics Technologies", to promote innovation and creativity in using robotics technologies to enhance public services. The Campaign starts with a series of thematic seminars and workshops, in parallel with an innovation competition (the Competition) for all serving staff in the Government of the Hong Kong Special Administrative Region of the People's Republic of China (the HKSAR Government) to submit innovative proposals with adoption of robotics technologies to enhance public services.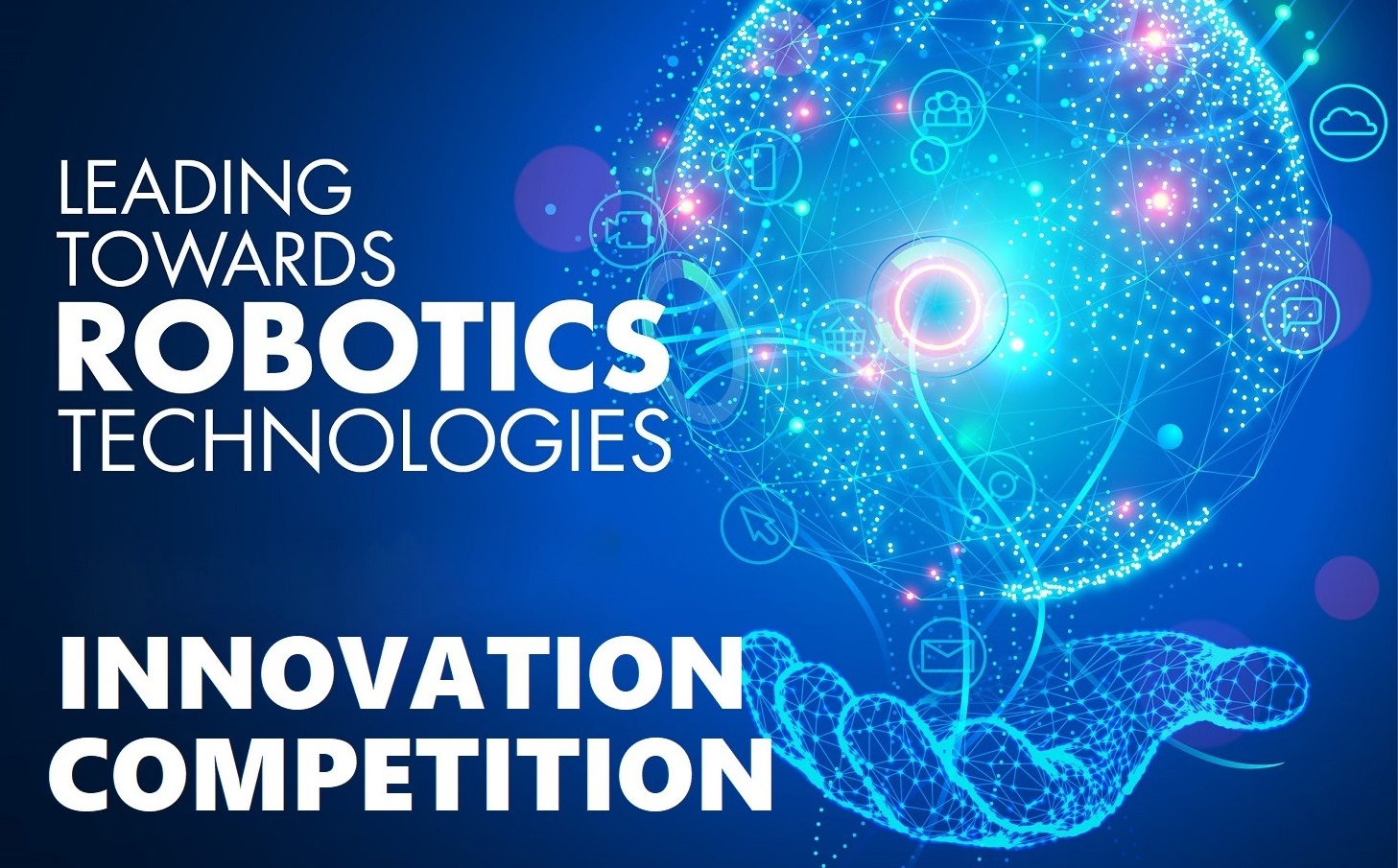 Short-listed Proposals
Following project proposals have been short-listed by the Selection Panel for proof-of-concept (PoC) in the Stage 2 of the Competition. If you would like to propose any I&T solution that could facilitate the PoC of any of the short-listed project proposals, please send a short description of your solution, the name of the relevant project proposal and your contact information to "smartlab@ogcio.gov.hk" and specify "Propose Solution for CTi Innovation Competition" in the email subject.
The maintenance performance of public roads and highways structures depends on swift identification and rectification of defects, which are heavily relied on adequate inspections by technical grade staff. In view of the large scale of public roads (totally 2,107 km in Sep 2017) and highways structures (15 major road tunnels, 1,349 flyovers and bridges as well as 1,292 footbridges and subways in Sep 2017) in Hong Kong, there are imminent need to adopt new robotic technology to alleviate the heavy workload of technical grade staff.

This proposal is exploring the use of air drone for aerial photography to take photos/video of public road surfaces for defects identification purpose. Regular patrol route is planned to be set to these air drones such that the photo/video taking can be done automatically to reduce workload for controlling. The air drone can also be manually controlled for aerial photography in some complicated inspections.

The video/photos taken would be further inspected manually to identify the defects and provide relevant labels. The photo/video taken can be split into training dataset and testing dataset for training the machine learning model to recognise defects.

This study would focus on assessing the feasibility in using aerial road condition photos to provide datasets with adequate details for identification and labelling of defects by human. As such, it could explore the feasibility in extending the uses of AI system for road defect detection under separate study in future. If resource allows, this study may explore the training and testing of AI recognition model as prototype for demonstration purpose.
The Department's warehouse maintains and supplies general spare parts and consumables ("goods") required by different units for providing operation and maintenance services for E&M systems at various government departments and public venues. The warehouse staff carry out tasks such as good receipt, order picking and issuing and stock taking, etc. in their daily operation. Under the existing practices, the staff decided the bin location on the rack manually for storage after goods receipt. The staff need to move around for putaway and order picking. The work processes are physically demanding and time-consuming, especially when there is variety of goods. Moreover, the warehouse operation is prone to error as all processes are manually controlled.

In this regard, a new application combining an automated guided vehicle ("AGV") and self-issuing locker is introduced in traditional warehouse. An AGV is a portable robot following along marked QR code, or uses radio waves, vision cameras, or lasers for navigation. The use of AGV is a new concept for warehouse to carry the goods to person for order picking and putaway. Not only saving physical effort and enhancing occupational safety and health, the solution comes with robot control system and warehouse management system which can efficiently assist with store operation, locker bin location allocation and performance visibility by applying artificial intelligence and robotics technologies. A self-issuing locker will also be introduced to allow users to collect the ordered goods any time in order to improve user experience.

By implementing the AGV system, it is expected:
- to facilitate the automation of manual processes with the warehouse;
- to maximise the use of space and capacity of storage in the warehouse;
- to improve the accuracy of the order handling process;
- to improve the overall efficiency of the warehouse operation; and
- to enhance user experience in goods collecting process.
This proposal aims to use drones, a.k.a unmanned aerial vehicles (UAVs), to establish an emergency dispatch system at hiking trails which provides timely drinking water supply to stranded hikers suffered from severe dehydration as well as fatigue. In the long run, we anticipate the service scope can be extended to delivery of critical survival kits.

Methodology
It is suggested to start a pilot scheme with several hiking or trekking black spots. Once the black spots are identified, drones and operators will be deployed at relevant or nearby country park management centres, which must be equipped with signal receivers for MyMap HK app. If a hiker is running out of drinking water and feels his life is in peril, he can open the SOS page menu on MyMap HK app to send a request for "water". Then a signal, together with the person's location and contact number, will be sent to the nearest management centre where a trained drone operator will input the received GPS coordinates in a drone. Subsequently, the drone will take off and carry pre-designed drinking water packs to the hiker. Depending on the result of the pilot scheme, we hope to extend EDDS to all hiking black spots in Hong Kong.
Raw water from the impounding reservoirs is one of the major sources for drinking water supplies in Hong Kong. Water quality monitoring at impounding reservoirs would assist to facilitate the effective control of water treatment process at the downstream water treatment works to ensure the drinking water safety. The Water Supplies Department (WSD) has adopted a system consists of four unmanned surface vessels (USV) for water quality monitoring and sampling at impounding reservoirs. The use of multiple USVs for water monitoring allows parallel operation for increased coverage and significantly increase the number of monitoring points, which enables the capture of spatial change in water quality of the whole reservoir surface.

The present USV system has increased the water quality data collection efficiency by increasing the number of water quality monitoring points and shortening the data collection time. To enhance the USV system performance, the following robotic intelligence aspects on route planning and sampling are proposed to be developed, including (i) automatic route planning and segmentation (planning the shortest monitoring route based on the locations of water quality monitoring points and segmentation of routes for multiple USVs); (ii) smart stepped-up monitoring (based on the real-time water quality monitoring data); and (iii) smart water sampling (based on pre-defined water quality criteria and real-time water quality monitoring data). It is believed that a smarter route planning and water sampling could further shorten the data collection time during the USV water quality monitoring, and at the same time allow a more detailed capture of the water quality of the whole reservoir surface.
Deploy and integrate Robotic and Building Management System to form a massive real-time 24*7 services via Building IoT network. The smart robot assistant can provide active real-time monitoring on the conditions of site/ plant room anytime & anywhere. It can actively collect data for AI & machine learning to identify potential abnormal zones.

The robotic system works together with the Building systems including Building Information Model (BIM), Integrated Building Management System (iBMS), Digital Twin, etc. to react proactively to take preventive measures and prompt follow-up actions via building maintenance staff and user interface.

Robotic system integrates with lift vertical traffic of multi-levels traveling by lift API interface, Building Information Model (BIM) and real time positioning and control.

All the robotic data and other sub-systems within the building will be integrated with the Department's control centre to formulate a digital twins model in an interactive way on both monitoring, control and even human interface.
The number of licensed motor vehicles in Hong Kong has been increasing continuously for the past few decades while the roads and parking/loading/unloading spaces do not increase proportionately especially in the overcrowded urban areas. Illegal stopping/loading/unloading at bus stops, restricted zones and yellow box junction (i.e. moving traffic offences) are prevalent and cause serious traffic congestion and road safety concern nowadays.

At present, the Department deploy beat officer / traffic warden to issue fixed penalty tickets (FPT) at scene or mobile video teams (MVT) to take video of moving traffic offences and issue FPT afterward. These enforcement modes are labor-intensive and only effective when there is an officer presence. When the manpower are withdrawn for other commitments at other locations, the moving traffic offences re-occur. The existing labor-intensive enforcement modes seem unsustainable in the long run.

The use of Intelligent Traffic Enforcement Robot (ITER) can replace the MVT to take video of moving traffic offences at scene round the clock at traffic congestion/accident blackspots. Issuing of FPT will then be taken place in the backend and this will save much manpower to work on the street despite the fact that we may need more manpower to process cases in the backend.

The proposed ITER consists of two portable rail-mount high-definition camera towers, wireless 5G transmission of video to a backend central server, video analytic software with learning capability (i.e. artificial intelligence [AI]) at the central server to identify vehicle number plate and moving traffic offences. Video footages, captured by camera towers on the street, will be transmitted to the central server at the backend where video analysis will take place to identify possible moving offences. It will generate a summary offence report to facilitate investigating officers (IO) at the backend to view the relevant video footage to verify an offence quickly and initiate prosecution action as appropriate.

The portable robots (i.e. the two camera towers) can be deployed to any problematic location configured for specific moving traffic offence(s). The ITER will create huge deterrence effect against opportunistic / irresponsible driving behaviors same as the existing red light and speed enforcement cameras, enhance the efficiency and effectiveness in traffic enforcement, and save cost in public service delivery.
It is proposed to develop a multi-function cleaning and disinfection robotic system (the System) integrated with video analytics to perform autonomous cleaning and disinfection work. The System could reduce the exposure of cleansing workers to potential epidemics, enhance the disinfection works quality without human fatigue, reduce workers' physical workload, improve the disinfection work efficiency and become more cost-effective in the long run. The major functionalities of this System are shown as below.

1. Consists of 6-axis manipulated robot module with Automated-Guide Vehicle (AGV) operates in fully autonomous and semi-autonomous mode. Fully autonomous mode enables cleaning based on pre-defined map routing, obstacles avoidance and automatic charging features; while semi-autonomous mode enables operator's remote control with real-time vision.

2. Equips with robot arm(s) installed with nozzles and wiper (e.g. high steam pressure or mixture of water/ detergent) pointing to target of cleaning regions to perform cleaning tasks, on floors and vertical walls below 1 meter height. After cleaning, UV disinfection module could be used to destroy bacteria and further prevent the spread of COVID-19.

3. Installs with camera on the robot arm and video analytics module for the identification of target dirty regions on different surfaces, from carpets to polished smooth surfaces and from dry to wet dirt. The analysis could facilitate cleaning and disinfecting target dirty regions autonomously. It also could be used to notify operator once the cleaning task is completed and alert operator if another dirty region is identified.

4. Provides remote control feature for operator on robot sheering handling, so as to provide useful distances as protective measures and eliminate mutual contact contamination on physical buttons (e.g. start / pause, touch screen, etc.) on the robot.

System pilot would be conducted on program optimization, especially on robot actions, routing path and video analytics on identification of dirty regions.
Safeguarding the well-being of hospital staff and patients against the spread of infectious diseases in public hospitals is critical especially in the current challenging COVID-19 pandemic. Surgical tools and healthcare linen touch patients and hospital staff directly or indirectly on a daily basis, and they undergo disinfection and steam sterilization process to kill bacteria, viruses and microorganisms before their use for medical procedures. The heart of the sterilization process is the hospital steam boiler system which operates around the clock and supplies steam to meet the increased sterilizing and catering needs of the hospital.

To uphold the performance of the steam boiler, regular cleaning of fire tubes is necessary to remove deposits build-up thereby enhancing heat transfer and reducing fuel consumption as well as preventing metal surface from corrosion. The existing cleaning procedure involves considerable manual handling operations potentially leading to repetitive muscle strain injury and dust inhalation. In addition, the cleaning consistency and the health condition of the fire tube could not be validated readily.

This project aims to develop an innovative technology to automate the cleaning and inspection of steam boilers' fire tubes in hospital and medical laundry. It will automate the manual tasks using collaborative robotic arm, computer vision & pattern recognition, auto push-pull cleaning brush and remote field testing technique for fire tube positioning and flaw detection to pinpoint maintenance strategy to minimize downtime and hence service interruption.

This novel robotic system will present the results in 3D graphical format together with endoscopic images for health assessment and boiler life span estimation. Not only does it enhance the boiler reliability and efficiency, but also improves the occupational health and safety. Other than public hospital, the system can be widely adopted in private medical sector and food industry; and its application can be further extended to air-conditioning chiller plant.
The general public have from time to time raised concerns about the toilet hygiene issue. Currently, toilet attendants are provided in public toilets with high utilization rates. In fact, the high utilization toilet environment cannot provide an up to present-day expectation as a place where toilet attendants may take a brief rest and even a meal break inside toilet.

Therefore, we intend to make use of easily manipulated robotic tools to help them clean the most disgusting and the most time-consuming job in toilet bowls and leave them more rest time or other cleansing work if such bowl cleaning system can perform task automatically even during their meal break.

In these prototyping projects, we aim to develop the robotics solution to help those aged front-line workers currently working under heavy workloads, insufficient manpower resource and high physical demand in poor working environment, deserving with more care from us. Although their job may be dirty in nature, they contribute to our society consistently and silently.

The design of low-cost automatic toilet bowl cleaning system can make the cleaning of bowls in a closed space for cleaning, disinfect and remove residues remained in walls of bowls to avoid fece-borne bacterial transfer through 2 types of prototypes (one for non-contact type cleaning tool and one for contact-type robot movable station), with necessary imaging-based inspection, analysis algorithm, temperature sensors, water and detergent sprayers, pressure control, safety devices and indication panels.
Unmanned Aircraft System (UAS) has been widely used in fire fighting, incident planning and rescue operations in the world. It is proposed to set up UAS including drones with accessories, live-video streaming system and back-end image processing hardware and software as a total solution for improving the fire and emergency operational efficiency and public safety, especially with regard to marine area aerial survey, marine firefighting, urban search and rescue, high angle rescue and mountain rescue incidents.

On adoption of the latest drone and associated technologies to improve operational efficiency for search and rescue operations, it is proposed to acquire new drones at enterprise level, drone accessories, optical and heat sensors, air-dropping system, tethered system, live video dissemination system, upgrading the hardware and software for modelling of incident site and post-incident analysis.
With the assistance of the Smart Government Innovation Lab, contestants of the short-listed project proposals will work with IT suppliers to implement their project proposals via a PoC within a six-month period. Contestants are required to submit a report for their PoC and present the PoC results to the Judging Panel on the Pitching Day.

Winners will be awarded with the following prizes:
Innovation and
Creativity Award

Prize

Grand Award

A trophy and HK$10,000 cash coupon

1st Runner up Award

A trophy and HK$5,000 cash coupon

2nd Runner up Award

A trophy and HK$3,000 cash coupon

Merit Award x 7

A trophy and HK$1,000 cash coupon
Certificate will also present to each team member of winning teams.

All awarded proposals will be showcased in the "Smart Government Pavilion" at the ICT Expo in the next year
Enquiries
For any enquiries about the Competition, please contact:
| | | |
| --- | --- | --- |
| Contact | Tel | Email |
| Smart Government Innovation Lab | 3182 6731 | smartlab@ogcio.gov.hk |